Three steps to build a 25K+ Linkedin network!
November 1, 2023
2023-11-01 10:54
Three steps to build a 25K+ Linkedin network!
🚀 Looking to boost your visibility and reach 25k connections on LinkedIn?
Growing a LinkedIn community is not about increasing your followers or becoming a social media influencer. It is about creating a loyal network that sees your content as valuable and builds "Trust and authority."
I recommend a 3-step ECC magical triangle methodology: Events – Connections – Content.
1️⃣ Step one is "Events": Meet, Greet & Connect 🤝🏼
Attending events related to your field can help you stay up-to-date on the latest trends and best practices. Events also provide opportunities to meet and network with like-minded professionals.
Here's what you need to do:
👉🏼 Register for the event and research who the speakers are.Find their profiles on LinkedIn & Twitter.
👉🏼 Understand what the event's content is talking about and what these speakers are interested in.
👉🏼 Send a short LinkedIn message: "Hello, My name is X. I am interested in A, B, and C, and I look forward to attending your upcoming event about Y."
👉🏼 Get to the event a bit earlier and introduce yourself to the speakers.
👉🏼 Pull up your phone, head to the search bar on your personal LinkedIn, and tap on the QR code for scanning in case you and the speaker haven't yet connected.
If your event is online, then message the speakers and guests as well and get to know one another if possible, even virtually. Because the more we grow our network, the greater the probability of opportunities for yourself and your company.
2️⃣ Step two is your "Connections": Invest & Interact 🌐
Building connections on LinkedIn is essential if you want to increase your reach.
It is crucial to connect with those who are on similar career paths, your colleagues and co-workers, and the gurus of your field.
Here's what you need to do:
👉🏼 Start by connecting with people you already know, such as colleagues, classmates, and friends.
👉🏼 Understand that there are 3 levels of connections: 1st degree, 2nd degree and 3rd degree.
👉🏼 With 2nd-degree connections where you have a few mutual friends:
Send a personalized message like: "Hello, I am Fady. We have X, Y common friends, and I saw your recent post on Y. I am interested in A, B, C. and its my pleasure to have you in my Linkedin network."
Strike up a conversation and hit that connect button.
👉🏼 With 3rd-degree connections who are industry experts, you must spend much more time as follows:
Follow their profile and engage with their content through beneficial comments for some days.
When they reply to your comment, reply back and strike a conversation that you can take to the DMs.
Hit the connect button. It is now a continuity to the conversation!
3️⃣ Finally, step three: "Content" is King 👑
The power of producing good content is unmatched. While I always say that content is king, let me add that content is also a magnet.
If you manage to create content that is entertaining, inspiring and educational for your network:
✅ They will become more loyal.
✅ They will follow you more closely.
✅ They will trust you.
✅ Eventually, they will "Share" the content.
And that's the turning point.
Everyone who shares your content turns into a brand ambassador who markets your content to a wider audience. This is the critical success factor; the more your content is shared, the more like-minded people will see it.
The 'like' button is great for personal satisfaction. But the "Share" button signifies you're becoming a thought leader.
Here's what you need to do:
👉🏼 You know your field, so you need to know your target audience.
👉🏼 Build your monthly content calendar with at least 1 to 2 posts per day.
👉🏼 Balance between sharing educational content, things you learned, personal experiences etc..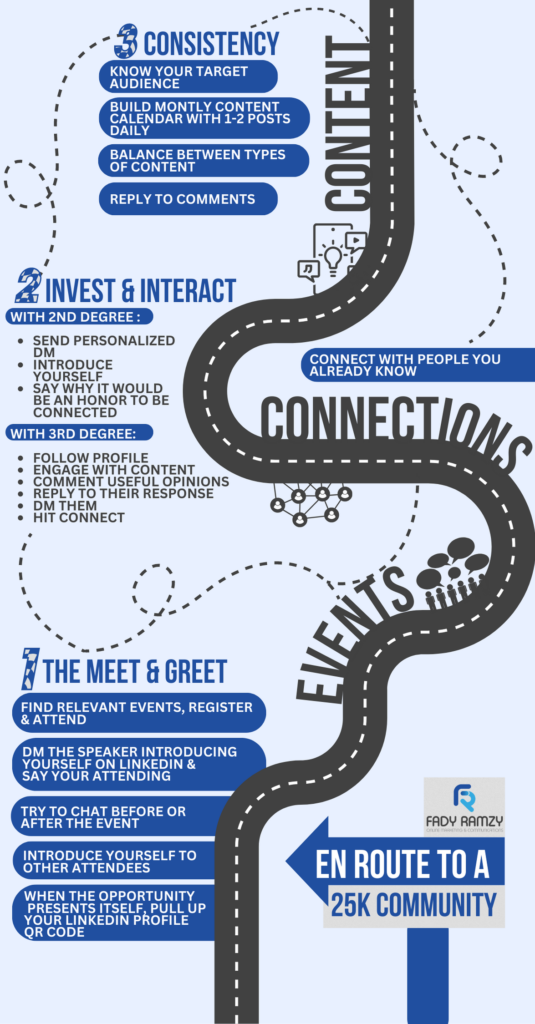 Finally, here are two immediate ways I can help you today
If you want to learn more about personal branding, here is a quick online course to put you on the right track quickly.
Do you want to start making money on Linkedin? Here is my "LinkedIn Influence and Income" online consultancy program. Book your slot here to tailor this program for you!